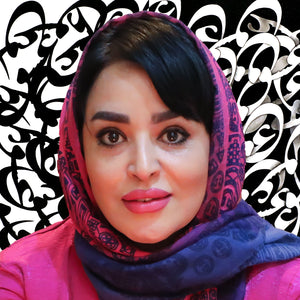 Leili Montazeri
Leili Montazeri lives in Iran and studied Persian calligraphy called Nastaliq under supervision of top persian calligraphy masters such as Gholam Hossein Amirkhani, Rasoul Moradi, Ali Shirazi and Javad Bakhtiyari.
Later, one of her professors inspired her with his artwork that was a blend of both painting and calligraphy. This is when Leili found her true passion in calligram, Persian miniature and illuminated manuscript.
She has curated more than 46 solo and group exhibits both inside and outside Iran and has received numerous national and international awards for her priceless works of Persian calligraphy. Leili fascinates her viewers by harmoniously blending calligraphy styles in her artwork.
View Leili's Artworks